kitchen and cabinet repair
Searching for kitchen & Cabinet Repair Service in Singapore? We're Professional Kitchen and Cabinet Repair Service provide all kinds of service and repairs, we will work closely with you to achieve the standard
Handyman King kitchen and cabinet service  is one of the most experienced and reliable cabinet contractors in Singapore. Beautiful kitchen and cabinet are the enjoyment of each professional cabinet servicing company Singapore, which is Handyman King provides. This results from the utilization of quality commercial kitchen materials and trained contractor Singapore. With dedicated professionals on our team, we might create or maintain your outdoor space with Beautiful kitchen..
Handyman King is a kitchen and cabinet repair company in Singapore that provides commercial repair services with the use of an Experienced and Trusted team. Allow Handyman King to be your kitchen servicing contractor in  Singapore with the necessary experience put to figure for you.
We are providing reliable and fast service, with 100% guaranteed satisfaction. The highly skilled and experienced workers are available at your convenience to supply the utmost quality and efficient service.
Spice Rack Pull Out
Pull-out Trash Bins
Pull-out Pantry
Tray Dividers
Blind Corner Pull-out
Kitchen Cabinet Roll-out
Kitchen Drawer Peg System
Utensils Block Drawer
Wine Station
Pet Food And Water Cabinet
Pantry Doors for Cabinets
Appliance, Coffee & Tea Bar Garage
Drawer For Kitchen Refrigerator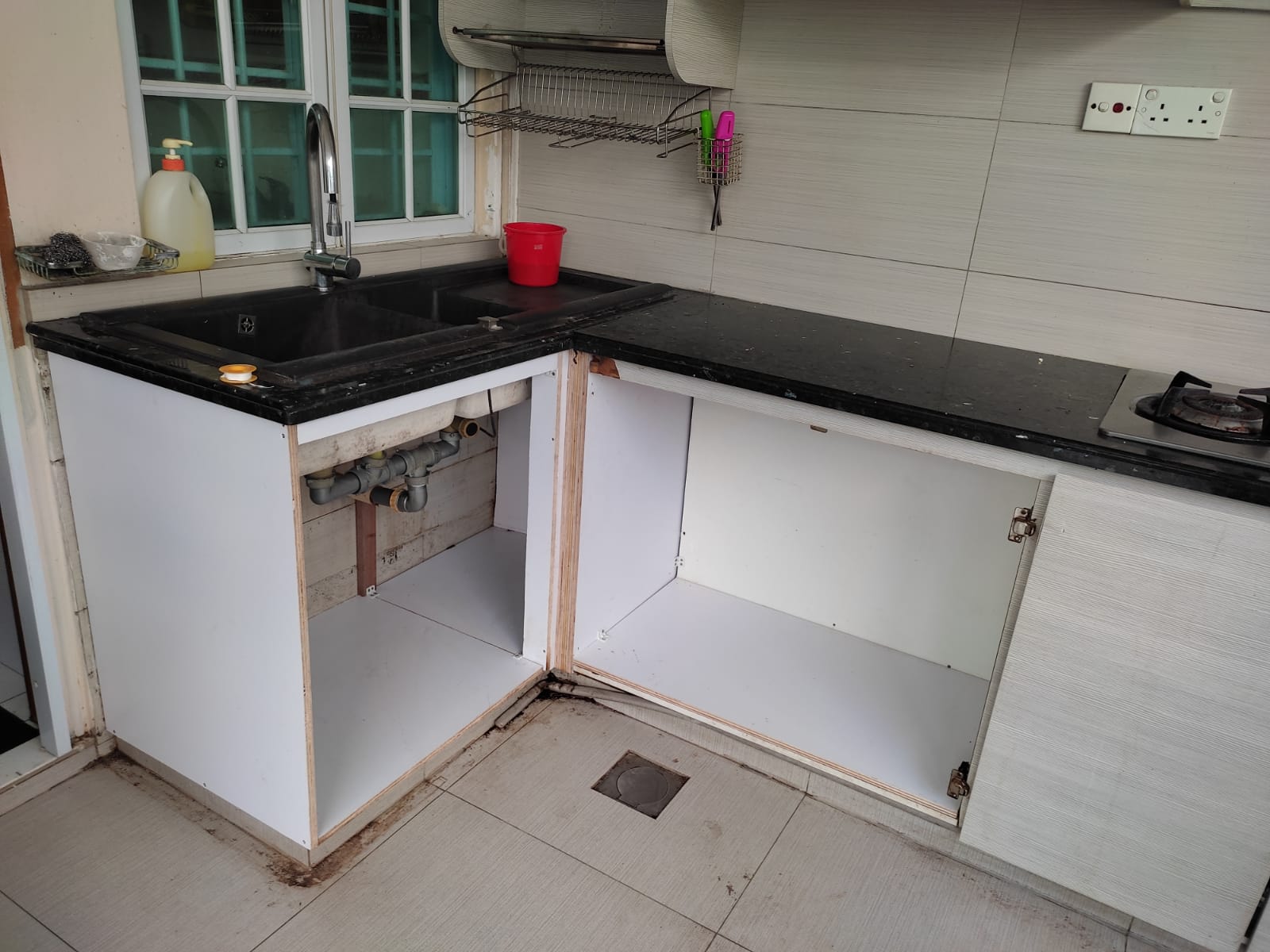 Kitchen cabinets can last for generations with a little care and maintenance by time to time. But even the best-quality cabinets may need minor upkeep on occasion, such as repairing scratches and loose hinges or patching and re-drilling screw holes. In many cases, cabinet repairs are simple enough to handle yourself, but for sagging shelves or problematic hinges, it may be time to call a cabinet repair professional.
Kitchen cabinets are often subjected to water damage because they are usually in close proximity to the refrigerator or sink.If your cabinets are made of MDF or low-quality material, then it is less likely to resist that damage.
Kitchens usually have high moisture levels if the environment isn't controlled actively. This can daage your cabinets and make them swell, dull down, or completely deteriorate.
24/7 Reliable and best service: Have an urgent issue? Call Handyman King kitchen repair service and we will be there as soon as possible to fix the issue for you in no-time.
Reliable and professional work: If you are looking for a reliable and professional Singapore cabinet repair company, look no further! We are providing a back-breaking job at highly affordable prices.
Provide beautiful work: We endeavor to provide the most beautiful greenery for all our clients. We believe in word of mouth and we know that if we deliver a good job to our customers, our brand will spread and more clients will know of us.
No hidden fees: With no additional charges and admin costs, Handyman King only expects you to pay what is quoted to you.
Total satisfaction guarantee: We take customer loyalty and satisfaction very seriously if you ever have a problem with their service or an issue with job performance, their team will try their very best to resolve your issue and leave you a satisfied customer.
For these reasons, our company is the best kitchen and cabinet repair  Company in the whole of Singapore. So, if you have to need any kind of kitchen repair service, you can contact with us feel free. We are sure that it will be a very better experience for you.
PLEASE WHATSAPP / CALL US F0R MORE DETAILS