We'r Professional Handyman Services provide all kind of installation and repairs, Our team we will work closely with you as to achieved the standard.
Electrical problems will be an enormous problem to affect if you choose the wrong services. High prices and long wait times are common among some electrical service providers and should be avoided, if at all possible.
We will provide you with the foremost reliable, reasonable electrical services in Singapore, so that your next power issue doesn't have to cost you an arm and a leg, or hours of your precious time.
In addition, our company offers some reasonably 24-hour emergency service, thus if you've a sudden power surge or other incident that leaves you without power, you'll have plenty of options to choose from, no matter what time it is, or where you are in Singapore.
LED, Fluorescent, Halogen Light Installation / Replacement / Repair
Power Socket & Power Point Installation / Addition / Replacement / Repair
Electrical Switch and Light Switch Installation / Replacement / Repair
Electrical Inspection & Troubleshooting Services
Power Trip or Power Failure Circuit Breaker Services
Child proof sockets and outlets
Electrical surge protectors
Wiring upgrades
Upgrades to electrical panels
Power failure/tripping repairs
CCTV and fire alarm installation
Faulty power points and light switch repair
General repairs and troubleshooting
Hi-power water pressure motor pump & control panel
Short circuit repairs
Electrical testing blackout
TV point, heater point and air con points
Data telephone system, antenna
Electrical Wiring
All other Electrical Installations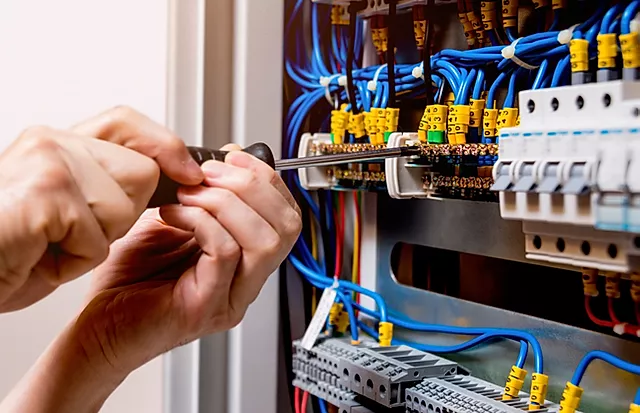 24/7 speedy service: Having an electrical emergency? Our Service's dedicated team of reliable electricians can assist you, regardless of what day or time it's. Our aim is to help you only twenty minutes when you book a service.
Fully certified & experienced electrician team: With dozens of happy testimonials on a mess of platforms, our linesman is committed to maintaining their 10/10 standing. They feel in satisfying each consumer, despite job scope.
Emergency support: At an emergency, our electrician is wait for just a quick phone call away.
Assurance support: If your repair or newly-installed feature fails inside 30 days, our technician can fully replace it, guaranteeing satisfaction.
Rewiring specialists: This Company offers nice home rewiring services. Whether you only need a partial rewiring or need to replace the whole thing, our company is that the right place for the work.
Comprehensive service: Our Electrical Services specializes in solving difficult problems and contains an immense sort of comprehensive coupling, maintenance, and repair offerings.
Providing a huge variety of electrical work: Our Company Providing a large sort of electrical work as well as industrial electrical installation and upgrades.
Reasonable, clear prices: Our Company offers skilled service at a reasonable cost, displayed openly on our website. So, you can try it.
Responsive support team: Enquiries on rating and convenience square measure answered quickly for all non-emergency services, and therefore the emergency team is often extremely responsive.
$0 transport fees: Some service providers will charge based on how far you are from their offices and stations, but our company does not charge any transport fees, which can be helpful if you are trying to minimize costs.
For these reasons our company is the best Electrical Service Company in whole Singapore. So, if you have to need any kind of electrical service, you can contact with us feel free. We are sure that it will be very better experience for you.
PLEASE WHATSAPP / CALL US F0R MORE DETAILS